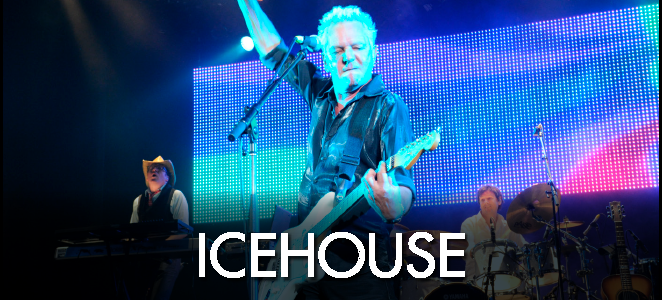 ICEHOUSE
ICEHOUSE is one of Australia's most iconic bands and recently celebrated a 40 year touring milestone. ICEHOUSE has played to sell-out audiences throughout the World and the band's hit songs transcend age groups, being loved by audiences across generations. The band's last New Zealand Tour sold out three shows in record time with 45,000 people attending the shows to rave reviews.
ICEHOUSE was formed by Iva Davies, the band's frontman and musical creative force, who lead the band to an amazing 28 Platinum albums, eight Top 10 albums and over thirty Top 40 singles, including but not limited to "Great Southern Land" "Hey Little Girl" "Crazy" "Electric Blue" "My Obsession"
ICEHOUSE has sold over three million albums locally and over nine million internationally. They have had 28 platinum records in Australasia alone, eight top-10 albums and over thirty top-40 singles. ICEHOUSE continues to prosper. In recent times Iva Davies and ICEHOUSE have maintained a strong presence in the Australian media as well as establishing their global online footprint with their popular Facebook, YouTube, Twitter and other social media pages and sites.
10cc
Among the most inventive and influential bands in the history of popular music, 10cc are one of the very few acts to have achieved commercial, critical and creative success in equal measure.
10cc has sold more than 30 million albums around the world and the band's longevity is testament to their timeless songs and reflecting Graham Gouldman status as one of the world's leading songwriters, he was inducted into America's Songwriter's Hall of Fame at a ceremony in New York in June.
The band continues to traverse the globe and play countries as disparate as Iceland and South Africa, Latvia and Japan, as well as across Europe, Australia and New Zealand, Canada and the US. With four decades of song-writing excellence and a crack band of musicians behind him Gouldman confidently promises, "This is as near as you're ever going to get to hearing the perfect 10cc. Hit after hit after hit. It's relentless. We show no mercy."
I'm Not In Love, Dreadlock, Rubber Bullets, Donna, Art For Art's Sake, Good Morning Judge, The Things We Do For Love, I'm Mandy Fly Me, Life Is A Minestrone, The Dean And I and The Wall Street Shuffle.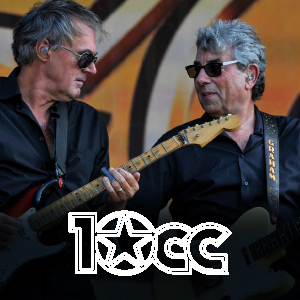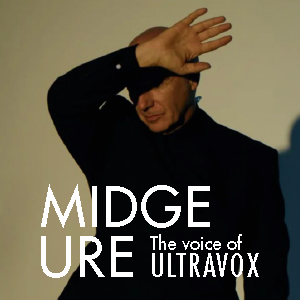 Midge Ure
Scottish New-Wave artist and the voice of Ultravox Midge Ure is bringing the sound of 1980, down under in 2020.
Midge Ure brings to Selwyn Sounds his full band, a huge sound and a brand new tour focusing on iconic hits from acclaimed album 'Vienna'.
Brought to life by Midge Ure and Band Electronica, this is the very first time in nearly 40 years that the 'Vienna' album will be performed in its entirety in New Zealand.
It is also the first time that many of the songs from the debut Visage album will be played live by the man who was one of the creative forces behind the project.
Don't miss this rare chance to witness live Midge Ure's back catalogue, which includes gems like  'Fade To Grey', 'Vienna' and  'Dancing With Tears in My Eyes'.
Zed
Kiwi favourites ZED reunites after 15 years, a real coup for Selwyn Sounds. The popular Christchurch school mates who formed a band, went on to have 4 top ten hits including "Renegade Fighter" and "Glorafilia", recorded two albums, toured the world, and then broke up – a real rock n roll story. ZED are back together to celebrate the 20-year anniversary of their debut album, "Silencer", and are bringing part of their celebrations to Selwyn Sounds. Local and New Zealand fans all over will be pleased to see Ben, Nathan, Adrian and Andy back together!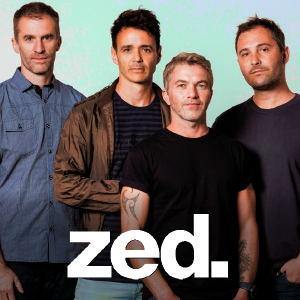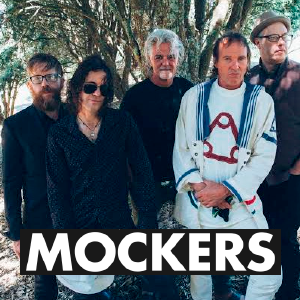 The Mockers
Returning to Selwyn Sounds Kiwi legends The Mockers reform their classic line-up for a very special set at Selwyn Sounds in March 2020.
The Mockers are promising a "hit-packed" performance featuring their classics like Forever Tuesday Morning, Swear It's True, One Black Friday, and My Girl Thinks She's Cleopatra.
Reuniting from all corners of the globe are Andrew Fagan (vocals), Brett Adams (guitar), plus Geoff Hayden (bass) – travelling from London, and keyboard maestro – Australian-based Tim Wedde, with guest drummer Chris O'Connor back on the kit.
The Mockers enjoyed three Top 10 albums and six hit singles and played to huge crowds across the country throughout the 1980s, riding a wave of New Wave pop success with the likes of the Dance Exponents and DD Smash.
After a 30-year hiatus – they have returned with a bang, undertaking two national tours since 2017 and releasing the acclaimed Mockers Live at The Powerstation CD/DVD set, which catapulted them back into the NZ Top 10.
Says Fagan: "To come back and sound great after so long apart has been such a joy for the band, and we can't wait to again share our Mockers songs live with fans at Selwyn Sounds."
Jed Parsons
Jed has come a long way since he graced our stage at the local Lincoln High School production of Joseph and his Dreamcoat.
Parsons' sound is a culmination of his rich and varied background as a touring musician, which has taken him around the world and into the studio with the likes of Nomad, Pacific Heights and Mel Parsons.
His music balances eccentricity and energy with intimacy and musical sensitivity, maintaining a focus on catchy hooks and lyrical prowess.
"If you're a fan of upbeat indie-pop, then you might already be aware of Kiwi muso Jed Parsons. But if not, he's undoubtedly about to become one of your new favourite artists…" – Tone Deaf, Australia
The release of his critically acclaimed debut album 'Midnight Feast' (IMNZ Debut Release of The Year finalist), and over 1.2 million streams down the track, indie-pop sensation Jed Parsons has settled into the dizzying heights of people saying "oh yeah, I think I've heard him before".
He's not complacent, however. Having already graced the stages of Auckland City Limits, Electric Avenue, Nostalgia Festival and North West Festival in his short career, Parsons is trucking on, having spent the last 6 months selling out shows on countless tours, and beginning work on his sophomore album.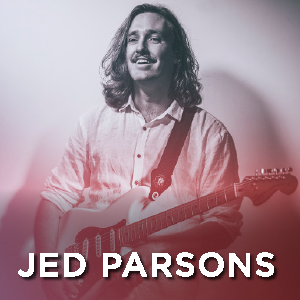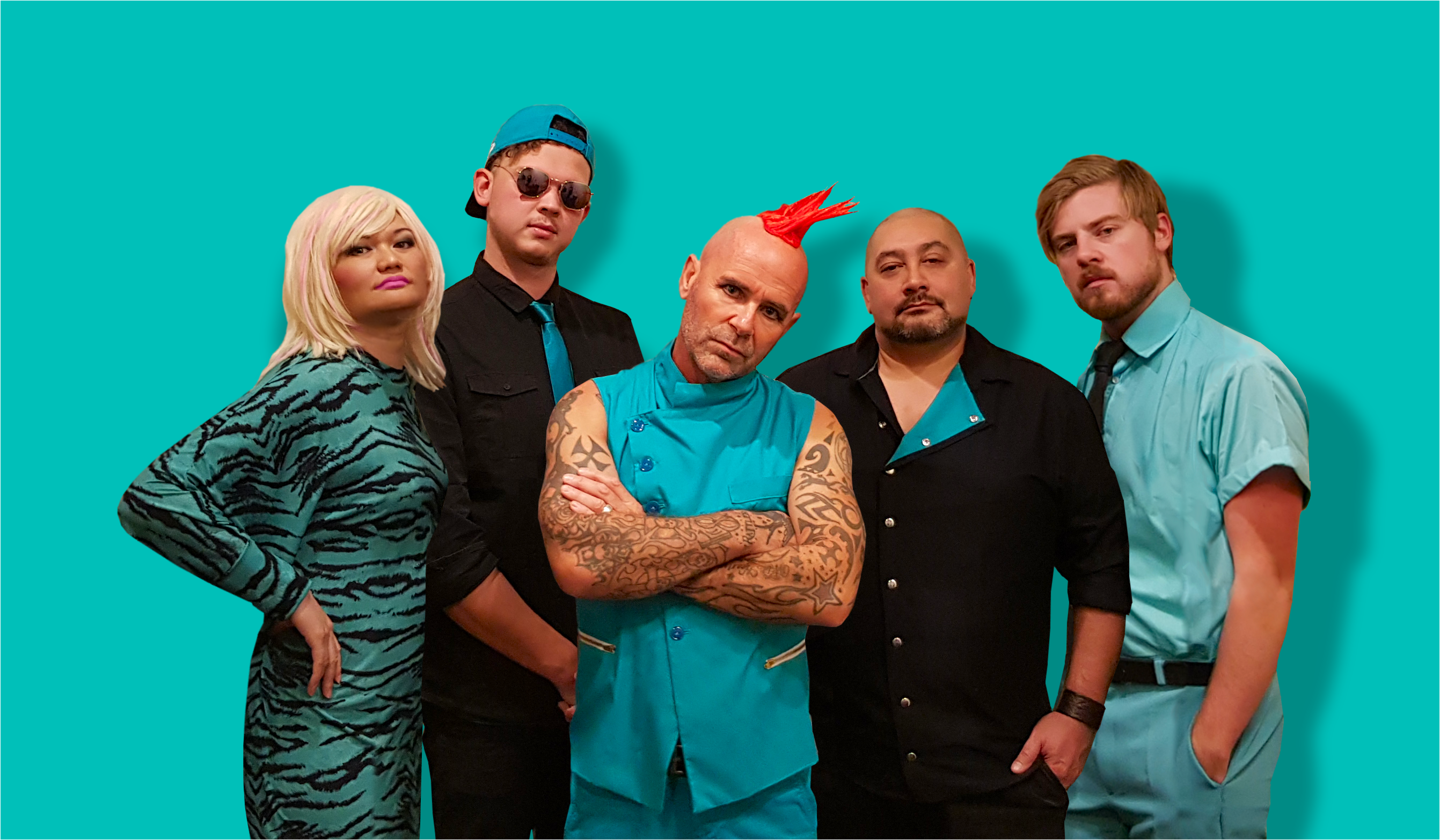 The Automatic 80's
Returning to Selwyn Sounds by popular demand and playing a little later in the day the LIVE Show features the very best of early to mid-Eighties New Romantic and New Wave hits, performed live, loud and pumping. The hundreds of hours of pre-production, musicianship and attention to vocal detail create an authentic live Eighties Music experience that leaves enthralled audiences exhausted and voiceless from dancing and singing. Be propelled back to the age of Synthplicity.
AutoMatic 80s delivers the smash hits of this unforgettable and exciting musical era. From bands like Human League, Simple Minds, Duran Duran, Blondie, Culture Club through to artists like Kate Bush and Robert Palmer, AutoMatic 80s performances will transport you back to those heady, youthful times and leave you wanting more.
The band and production crew are dedicated to bringing audiences the ultimate Eighties concert experience – quality sound, great lighting and electric atmosphere.